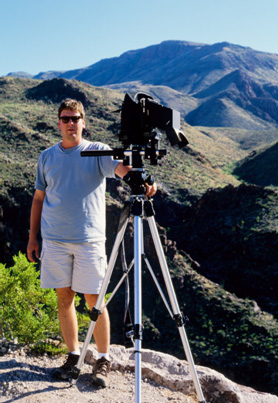 Charles Davis Smith is an award-winning photographer who draws from his years of architectural training and experience to poetically convey the projects, design ideas, and philosophies of some of the nation's leading architectural firms. His deft use of the camera lens to capture an architect's design intent denes the bedrock essence of his imagery.
A collaborator at his core, Charles is sought out by renowned designers for both his technical and aesthetic know-how. His clientele ranges from the largest and most respected national and international rms to distinguished regional architects across the southwest. As a result, Charles' portfolio displays both depth and breadth, spanning all major building types from corporate towers to small residential projects.
CELEBRATING THE ARCHITECTURAL EXPERIENCE
As an architect, Charles applies the principles of design to create a 'foundation' for his work, much as a canvas provides the base for a painting. As applied to photography, these tenets of form, function, light, context, scale, color, materials - details, perspective, and transparency are revealed to illustrate the architect's design, transcending project size or style.
As a photographer, Charles imparts an understanding of seasonal sunlight, shading and shadows to the architectural story, resulting in an image painted with interwoven layers of forms, a juxtaposition of materials and colors, light, and strong shadow lines that clearly dene his client's design. His images convey a story; when used in sequence, they not only give the viewer a sense of space but also act as a transitional element, gracefully navigating the viewer though the project.
RECOGNITION
Through the use of Charles' photography, clients have garnered more than 250 design awards, including 110 from various entities of the American Institute of Architects. He has contributed to numerous books, and his images have appeared in more than 60 magazines including Architect, Architectural Record, Architectural Digest, and Dwell. Through immeasurable distribution on the internet, he has conveyed exemplary architecture globally.
BIO
Charles is a graduate of Texas A&M University where he received his Bachelor of Environmental Design and a Master of Architecture with a specialization in Historic Preservation.
He is a registered architect in the State of Texas has more than 15 years of experience as an architect with various firms in Texas and Indiana including Dallas Architect Frank Welch & Associates. What originally began in the late 1980's as a passionate hobby in college, has since turned into a professional career that includes some of Texas' most notable architects and architectural firms.